Forbeauty
What is the LED Hair Removal Machine?
The LED Hair Removal Machine uses a high-power super-luminous LED (Planar LED) array (8 chips) as the light source. Crystal-guided pyramids shape and transmit near-infrared beams. Acting under the skin, the melanin in the hair follicles is absorbed by the heat to achieve the hair removal effect. At present, the technology of hair removal has gradually evolved into many kinds. For example, laser hair removal, photon hair removal, physical hair removal, drug hair removal, etc. Compared with LED hair removal, it is more stable, and the effect and experience are ideal.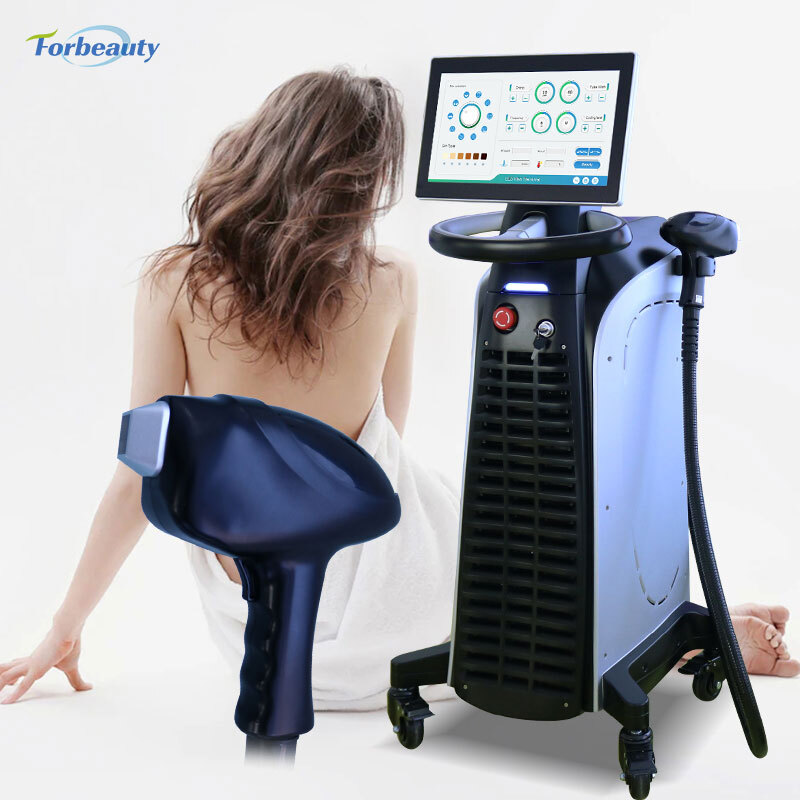 Specification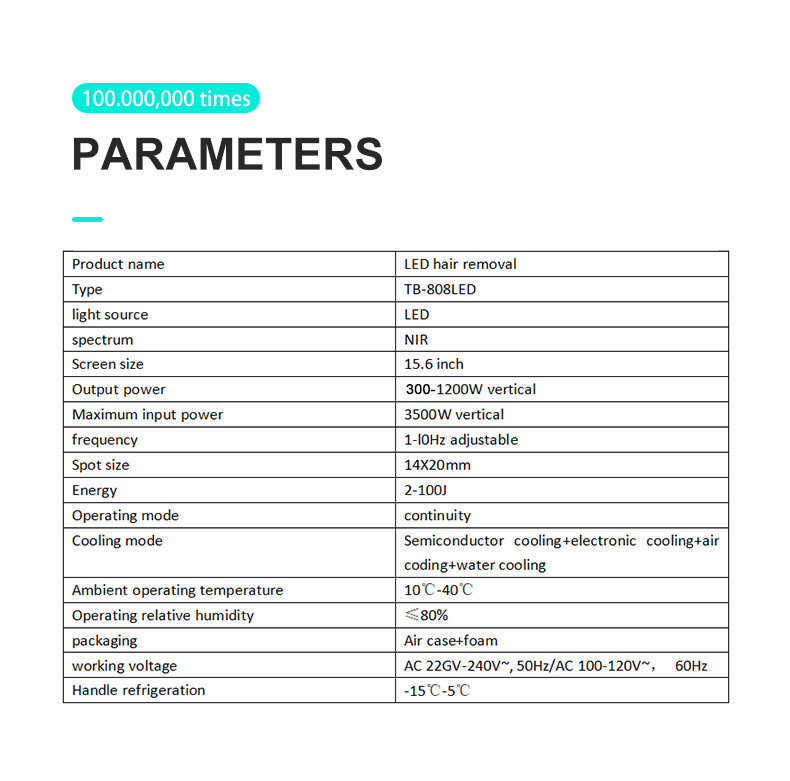 Why choose LED Hair Removal Machine?
1. Long lifespan and high stability
Up to 100 million shots and 5 years' expected service lifetime(less than 10% failure and 20% power attenuation), without any consumable. Stable performance, low malfunction rate, no downtime. Very easy maintenance and aftersales services. Low running cost, but high return on investment.
2. Reasonable light wavelength and spectrum
LED uses near-infrared light with a wavelength of 780~850nm, little absorbed by skin tissue and vascular, etc., but mainly absorbed by melanin follicles, so hair removal is highly effective. The light spectrum has width and can apply to more skin colors including dark skin.
3. Excellent surface emitting
Evenly rectangle spot with a nice consistency, energy is uniform, and no painful feeling during treatment. Surface array light source, lower max. local brightness, not harmful to human eyes through the direct watch.
Planar light emitting area, uniform rectangular spot, and the light's divergence angle are small to 15°, easily penetrate into the skin, very deep penetration depth, deep hair follicle also can be treated.
LED Hair Removal Machine VS Laser hair removal machine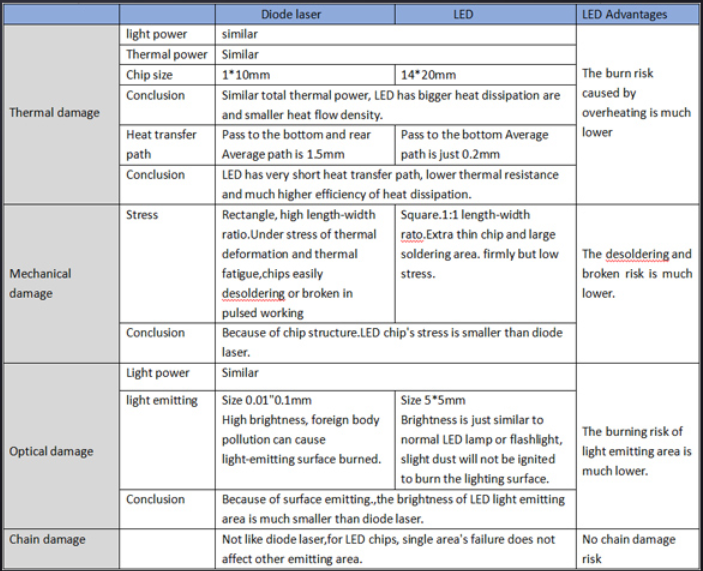 Advantages

High power and energy; excellent clinical effect
Total 1200W, 8 pieces of 150W lamp beads( chip) from USA.
The chip outside size is small and can collocate chips compactly, to achieve higher power density.
Compared with similar vcsL laser(non-channel laser), power density is higher about 70%, enhancing clinical effect a lot.
The convenient and solid handpiece
The handle can be changed singly, more strong, even if bending or collision does not induce damage.
During operation, an intelligent LCD Window can show being used energy, pulse interval, frequency, and shots count clearly, convenient for the operator.
Sapphire contact cooling
Because of compact chips' collocation, when transmission in light guide crystal, efficiency is high, so still can have sapphire contact cooling. The lowest temp. reach -15℃, cool enough to protect the epidermis, and comfortable treatment feeling.
Big spot size
The big spot size is 14*20mm, efficient for hair removal for big skin areas.
Fast hair depilation 300w/500w/700w/900w/1200w
High Power led hair removal laser diode machine
Operation steps of LED Hair Removal Machine:
-Usually, 3-5 times as a session, 4-6 weeks between each treatment, the effectiveness and number of treatments numbers required depend on the individual's hair colors, unique properties, and growth phase, and may vary from person to person
-Clean skin
-Should shave the unwanted hair first. Because the dark colored hair is easy to absorb energy; over absorb may result in skin burning more or less
-Spread the cooling gel on the treatment area before treatment, about 3mm thickness; and scrape the gel 20 minutes later after the treatment.
-Setting parameter: From low to high to test, it can be increasing the value, according to the actual conditions of the patients; generally, the best treatment results are a stinging sensation under the tissue, which is acceptable
-Wear glasses for operator and client
-Touch the work button on-screen and press the button on the handpiece to start the operation
-After treatment, clean the crystal on the handpiece