Forbeauty
What is HIFU Machine?
The HIFU Machine uses High-Intensity Focused Ultrasound (HIFU) directly delivers heat energy to the skin and subcutaneous tissue that can stimulate and renew the skin's collagen and thus consequently improving the texture and reducing sagging of the skin. It literally achieves the results of a facelift or a body lift without any invasive surgery or injections, moreover, an added bonus of this procedure is that there is no downtime. This technique can be applied to the face as well as the whole body, and also, it works equally well for people of all skin colors, in contrast to that lasers and intense pulse lights.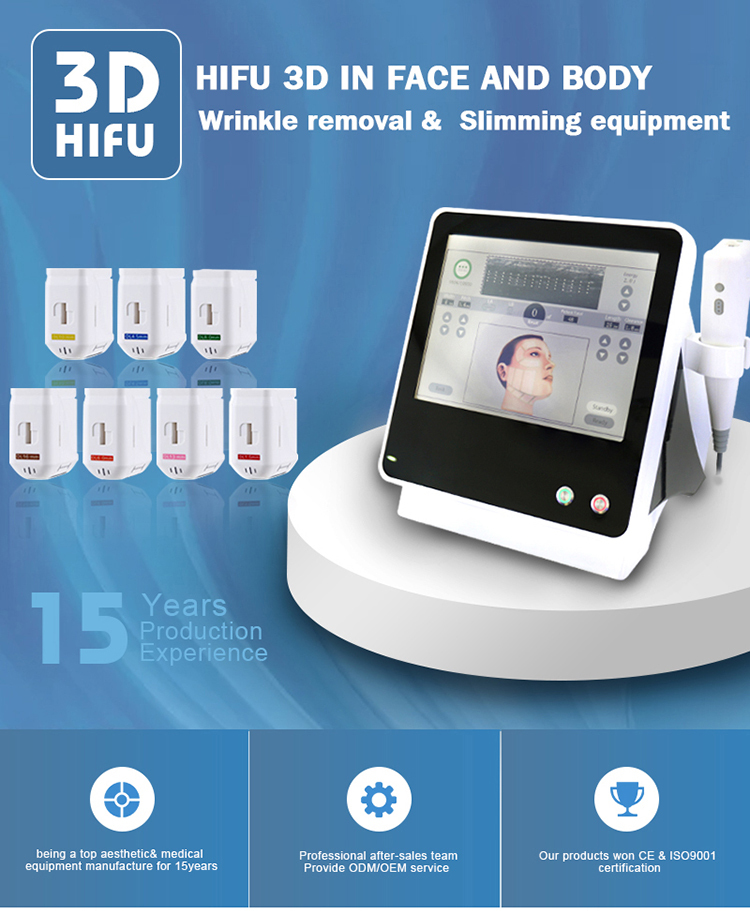 Specification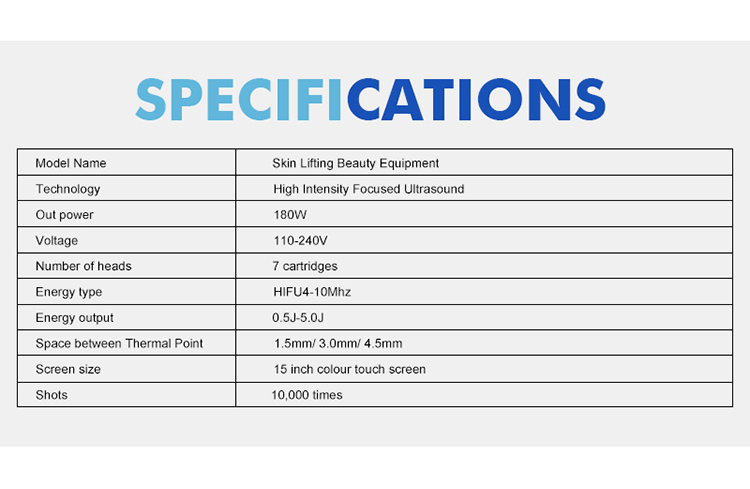 What are the advantages of the HIFU Machine?
This is a completely non-invasive treatment to actually lift skin. It is much less painful compared to other lifting technologies. Due to its extremely fast shot speed, HIFU offers patients the luxury of having treatments completed in minimal time.
What happens after treatment?
There is no downtime associated with this non-invasive procedure, so it allows patients to return to daily activities immediately after treatment. Immediate results in skin tightening are often noticeable right after the treatment.
Is it painful after using the HIFU Machine?
Discomfortlevelsvaryfrom personto person. Most patients tolerate the procedure well while the energy is being delivered. Any discomfort associated with the procedure is temporary and lasts usually only during the procedure.
How it works:
HIFU stands for High-Frequency Ultrasound. The device delivers energy below the skin HIFU effect three layers of the superficial and dermis along with SMAS right down next to the muscle which is the same layer of tissue that surgeons pull tight in a facelift. As thermal energy safely heats this tissue, it contracts to result in the tightening of the skin and the formation of new collagen, which provides a long-term tightening effect.
How many treatments are needed?
The majority of patients only need one to two treatments. Experts agree that dramatic clinical outcomes can be achieved and improvements will be visible up to 6 months after the initial procedure. Touch-up treatments could be performed in 1-year intervals, depending on the degree of lifting and tightening that needs to be addressed.
Is HIFU treatment safe?
Registered in Australia on the ARTGA and certificated by the Korean FDA and CE cleared for eyebrow lifting this high-intensity focused ultrasound (HIFU) device also achieves excellent aesthetic outcomes in Jowlliftina. nasolabial fold reduction. periorbital wrinkle reduction and overall skin tightening and rejuvenation in targeted areas. HIFU has been used safely in hundreds of thousands of treatments worldwide.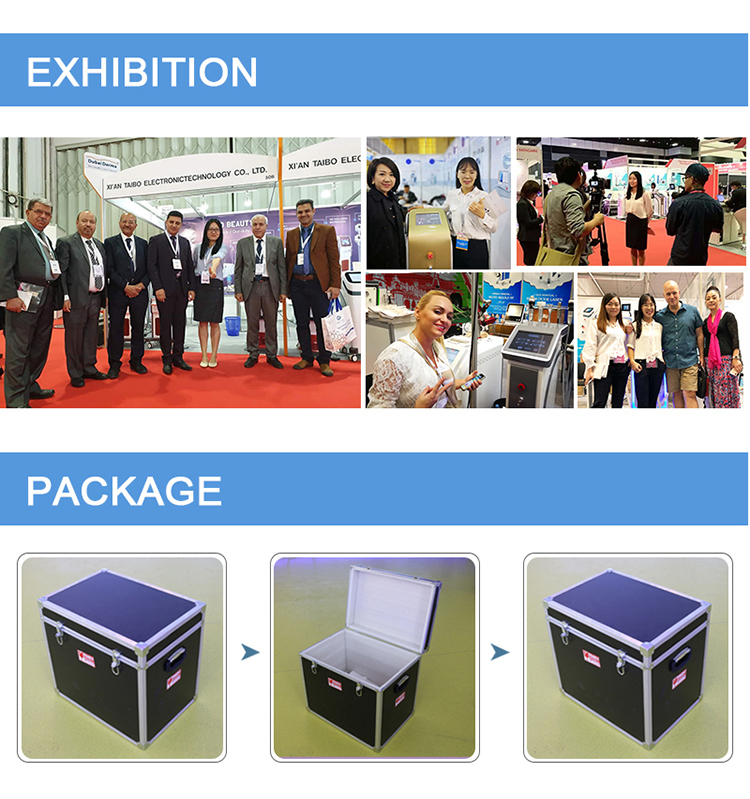 Xi'an Forbeauty S&t Development Co., Ltd. is a professional beauty machine manufacturer. Has more than 15 years of production and R & D experience. Our products mainly include laser hair removal, laser spider veins, beauty, slimming, medical beauty, medical laser, and other machines. We have complete R&D, sales, logistics, after-sales, and other professional teams. At present, we have provided professional services to different customers in many countries around the world! At the same time, you are also welcome to join and act as an agent.