Forbeauty
Hydro Facial Machine
$2400.00now$2099.00 piece
What is Hydro Facial Machine?
Our Hydro Facial Machine is a multifunctional facial beauty machine. It mainly includes Hydrodermabrasion with 8 tips/Hydrodermabrasion with 9 diamond tips; Spraymist gun 1 piece; BLO 1 piece; Three polar RF 1 piece; High-frequency handle 1 piece; Ultrasound handle2 pieces; Bio photoelctric2pieces; 2 pieces of these handles with different functions. It can basically complete the nursing work of the face. It is widely used in beauty salons, skin management centers, dermatology clinics, and beauty colleges.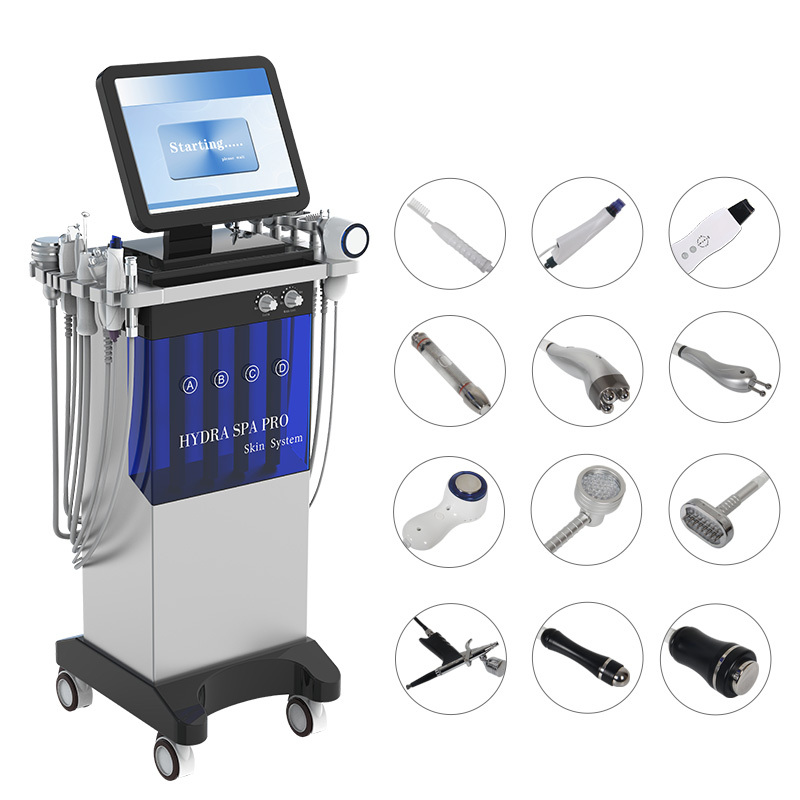 How does the handle of the Hydro Facial Machine work?
1. Oxygen spray gun
Nano-oxygen lance(deep hydration) nanoparticles spray oxygen, and water particles are fine, and directly penetrate the muscle bottom. It's 16 times the ordinary spray effect.
2.Diamond dermabrasion
Diamond dermabrasion work head can cover the dead skin cells and absorb them, and the powerful water-absorbent grinding head can completely purify the keratin. Effectively promotes blood flow to the skin and helps produce collagen.
3. BIO
Heats skin tissue to absorb large amounts of heat and then smoothes it with new collagen wrinkles, tightens skin, delays skin aging, dilutes fine lines, and removes dark circles.
4. Three polar RF
Radiofrequency radio waves enter the deep part of the skin, and the internal natural resistance movement causes the skin to heat up. The use of dermal collagen cellulose immediately produces a contraction principle at 45-60℃ which can smooth wrinkles tighten the skin and delay skin aging.
5. Skin scrubber
High-frequency vibration removes dead skin and blackheads to clean the face and tighten the skin. Can be used with gels, water emulsions, solutions, etc.
6 . Bio photoelectric
Bio photo electricity enters cells. improve cell metabolism and circulation. and enhances the healing capacity of cell tissues while contracting and promoting the movement of each muscle. Update muscle length and spring. Fundamentally improve the skin。
7. Hydra dermabrasion
Effectively improve skin texture, eliminate wrinkles, and quickly improve skin texture, remove acne and blackheads quickly and easily without any pain or discomfort.
8.Ultrasound(face)
Act on the face to improve skin texture, enlarged pores, and horny skin. Purify skin, remove excess thick keratin, clean pores, break down oil, and tighten pores.
9. Ultrasound (eye)
Works on the eyes to improve skin texture, enlarged pores, and keratin. Purifies the skin. removes excess thick skin cells, cleans pores, decomposes oil, and tightens pores.
10. LED Light
It's appropriate for normal skin to acne skin & atopic. dermatitis using high-performance LED light.
11. High Frequency
DiffGenerates high-frequency current through the glass electrode tube promotes blood circulation and promotes metabolism, Acne removal, skincare, hair care, etc.
Specifications of
Hydro Facial Machine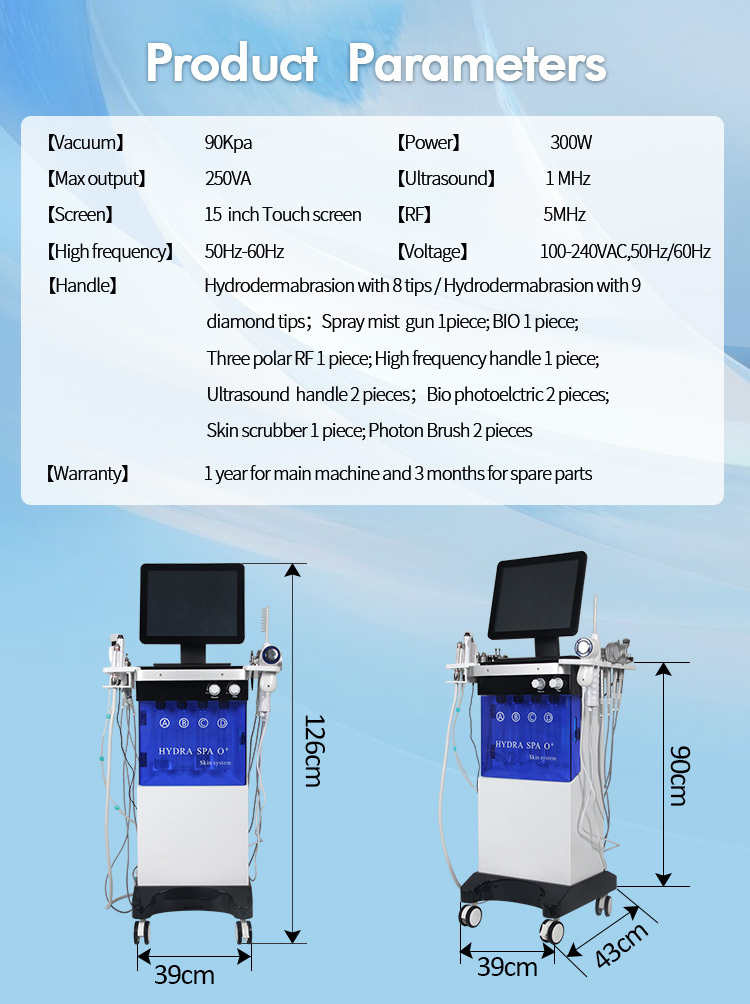 Who is not suitable for Hydro Facial Machine?
(1) Patients with heart disease, home pacemakers, and high blood pressure.
(2) Patients with acute inflammation, deep vein thrombosis, goiter, asthma, and cancer.
(3) Persons with ruptured blood vessels who have trauma, and the wound is bleeding.
(4) Pregnant women.
(5) Areas with fillers in the body after plastic surgery.
(6) People with metal materials in their bodies (including metal teeth).
(7) People with skin inflammation and body swelling.
(8) Those with abnormal immune system function.
(9) People who feel numb and do not respond to heat.
What are the benefits of the Hydro Facial Machine?
1. It can clean the skin deeply and efficiently. Including oil stains, blackheads, acne, etc.
2. It can help the skin to better absorb skin care products, purification, moisture, etc.
3. Lifting, firming, and shrinking pores. Make the skin more delicate and elastic.
4. It has the effect of whitening and moisturizing.
5. It has a good repair effect on wrinkles and scars.
6.
Hydro Facial Machine
can also repair aging and acne skin and lighten spots.
7. Can remove acne, acne, skincare, and hair care.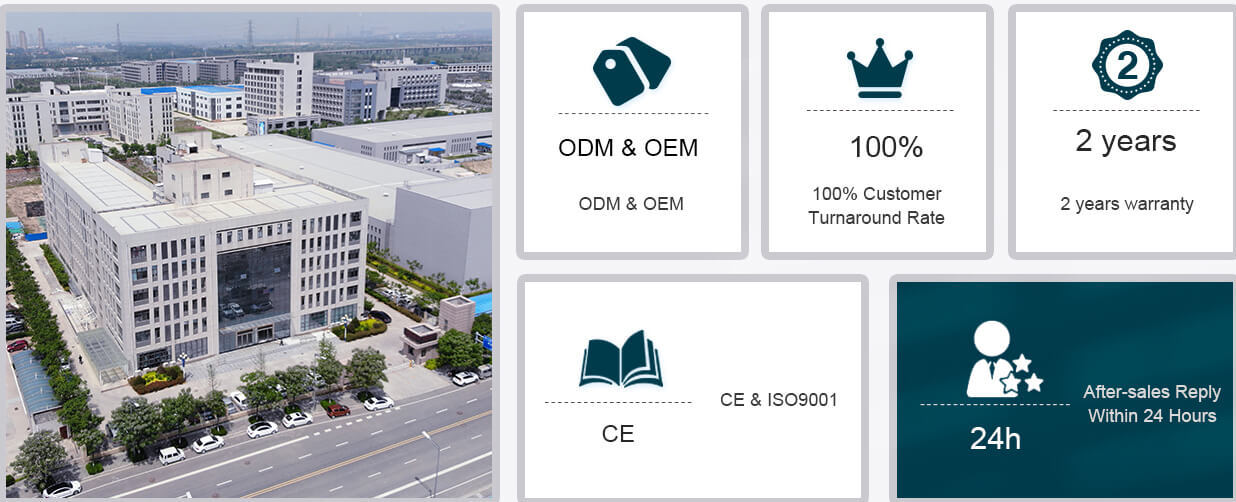 Xi'an Forbeauty S&t Development Co., Ltd. is a professional beauty machine manufacturer. Has more than 15 years of production and R & D experience. Our products mainly include laser hair removal, laser spider veins, beauty, slimming, medical beauty, medical laser, and other machines. We have complete R&D, sales, logistics, after-sales, and other professional teams. At present, we have provided professional services to different customers in many countries around the world! At the same time, you are also welcome to join and act as an agent.